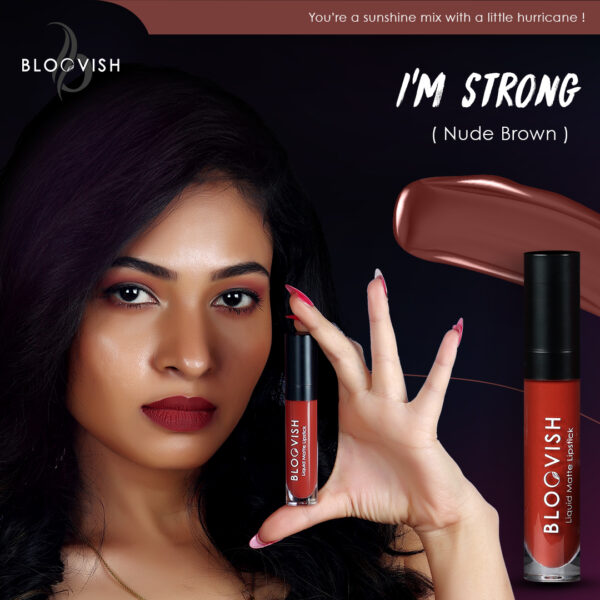 I'm Strong – Nude Brown Lipstick
Shade Name: I'm Strong – Nude Brown Liquid Lipstick
Shade Number: 04
Shade Color: Nude Brown
Net Qty: 4.5 ml
You can never go wrong with brown! A subtle nude shade complementing your skin tone is all that you need for everyday wear. This shade blends like magic on your lips giving an alluring natural look.
What we think about our shade-
I'm Strong: We fall, we break, we fail. but then, we rise, we heal, we overcome, we choose to be ourselves and persevere no matter what life throws at us.
So, its time you too choose to thrive and as you spread the joy of little things and amaze this world.
Just Bloo'vish it! Cause being strong, is the only way of life.
In stock
Description
Introducing our brand new Bloostick in shade I'm Strong for your lips!
Nude Brown Liquid lipsticks are one of the super versatile lipstick shades for Indian skin. So, if you want to go nude, leave the subtle brown or the almost unnoticeable shades and go for this nude brown shade from Bloovish. Although it is nude, but it can still give you a lovely envy-worthy dark pout. This is a chic nude lipstick that can compliment a dramatic smokey eye or a bold look. Adding a touch of natural-looking color on your just outline your lips with a slightly darker lip liner and fill your lips. Softly blend it to create that subtle ombre effect.
Color: Nude Brown Lipstick
Personality: Powerful
Finish: Velvet Matte
Payoff: Weightless and nude lipstick
Claim to fame: Five hours of moisture
Benefits:
Can be used as a cheek tint
Pigmentation
Strong color pay off
100% vegan
Cruelty-free
Paraben-free lipsticks
Enriched with Vitamin E & Jojoba oil our products are formulated in Taiwan and made in India. They moisturize lips yet last long. Embrace your wilderness and make love to your lips for as long as you want them to. Do not think just be smart and add the best lipstick shades for Indian skin.
Wondering what it'll look like on you? Just swipe through the images of our gorgeous Bloovish family rocking the shade!
Additional information
| | |
| --- | --- |
| Weight | 0.05 g |
| Dimensions | 6 × 2 × 1 in |
Reviews (1)